Minneapolis & St. Paul Commercial Sewer and Drain Cleaning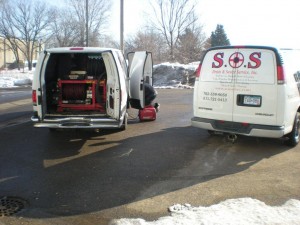 Our commercial sewer and drain cleaning services are well-known throughout Minneapolis, St. Paul, and all around the Twin Cities. We help commercial establishments ensure they save money by preventing issues or catching them on time as opposed to a problem coming about and causing more expensive pipe and property repairs.
If you are a commercial establishment without a plan in place to ensure the health of your drain and sewer systems, S.O.S. drain and cleaning services is there to help you. We offer same-day service and 24/7 emergency services so we can help you ensure your drains and sewer lines remain in good working order.
Expert Commercial Drain & Sewer Cleaning Services
We offer a number of drain and sewer cleaning services that ensure the smooth operation of your drains and sewer lines. They include:
Inside main line drain cleaning
Kitchen sink drain cleaning
Floor drain cleaning
Bath tub drain cleaning
Clogged toilet drain cleaning
Clogged shower drain cleaning
Line locating, optic inspection, and video documentation
Clogged grease traps
We are your full-service Minneapolis & St. Paul drain and sewer cleaning company. If it needs to be taken care of, we can take care of it quickly and in the most effective way possible.
Lower Operating Costs With Preventative Maintenance
Having a preventative maintenance plan is very important because these plans are designed to prevent large issues that can cost you a great deal of money in the future. Your operating costs are cut when you utilize one of our productive programs. This keeps you from having to pay costly repairs and damages to your property. You also minimize any future downtime.
How this works is we inspect your drains and sewer lines. This will help us see what your systems are like so we can create a customized maintenance plan that works just for your system. Since no two drain or sewer systems are alike, it is important that we use a custom plan because there really is no "one size fits all" maintenance program, especially when you have S.O.S. working for you.
Contact A Minneapolis & St. Paul Commercial Drain & Sewer Cleaning Service
When your commercial drain or sewer is clogged, the end result could be serious and expensive. That is why S.O.S. Drain & Sewer Cleaning Services offers 24/7 emergency services and same-day service so that you don't have to deal with the expense or the inconvenience. To learn more about our services and/or schedule a free estimate, call us at our Anoka office at 763-413-4720, our St. Paul office at 651-645-8383, our Bloomington office at 952-835-7677, or our Minnetonka office at 763-559-9050.